Mission Statement:
A grassroots movement to make a difference in the New Mexico community,
by providing educational development and quality of life assistance.
About Us
Los Ojos de la Familia is organized and operated exclusively for charitable and educational purposes. Assistance provided by the organization includes, but is not limited to, grants, scholarships, financial support, and maintenance of individuals and families in need throughout our community. We attempt to identify individuals through input provided by members of the community, members of the education system, and members of the organization—individuals who, without such assistance, would not be able to gain an education or trade, provide for the basic needs of their families, and become self sufficient contributors to the community. Financial need to stay within the educational system will be the primary criteria for which support will be provided. However, secondary considerations will be given to families whose current financial circumstances fail to offer opportunities and encouragement to improve and excel within the community. The broader objective is to provide support, financial and otherwise, to individuals and families who have the potential to improve their lives, the lives of their children, and the strength of our community.
Download the Los Ojos De La Familia CV
Download the Supplemental Information
Board of Directors
Michael Montoya
President CGI
Michael L. Montoya is the Owner and President of CGI (Custom Grading Inc.) a local construction company specializing in site work, demolition and paving. The company has been in operation since 1973 and does work throughout the state of New Mexico.  Michael has worked in construction all his life and has years of experience in commercial, Industrial and residential construction.
Michael and his Wife also own Titan Investments a property management company here in Albuquerque and Titan Construction a general building contractor for their personal projects and properties.
Michael is a proud and dedicated father to three children- Hope, Faith and Luke. He has been married to his beautiful wife Jill for the last 22 years.
He holds a bachelor's degree in Construction Management and a Master's Degree in Business Administration. He also holds numerous licenses from the State of New Mexico for General Construction, utilities , demolition , paving, site work and concrete.
Michael serves as President on the Board for Los Ojos De la Familia. A grassroots charity founded a decade ago in NM.
Onesimo C. Vigil
CEO / Inteli-Care, LLC
Mr. Vigil is the Vice-President and board member for Los Ojos de la Familia. As a CEO, Entrepreneur, Author, Business owner, and Investor Mr. Vigil brings passion, experience and dedication to the Los Ojos board. Born and raised in Santa Fe New Mexico Mr. Vigil attended Capital High School, the University of New Mexico and the University of Phoenix. Mr. Vigil holds a Bachelor of Science degree in Dental Hygiene and a Master of Business Administration with a focus in e-commerce. Mr. Vigil is a devoted family man to his beautiful wife Rachel and the proud father of three wonderful children Celina, Isaiah, and Alec.
Mr. Vigil started his working career practicing Dental Hygiene. After six years in Dental Hygiene he decided it was time to start his own home healthcare company and did so in 2003. Since then Mr. Vigil has built three other companies and published his first book in March of 2009. As an entrepreneur, speaker, author, and CEO Mr. Vigil believes strongly in creating opportunity for others and is very involved in the betterment of the community. Mr. Vigil understands through first hand experience what it takes to succeed in life and is driven to help others also succeed.
His passion is to help the community by helping to grow Los Ojos de la Familia so that the organization can help families not only in the Albuquerque area but across the entire State of New Mexico. His aspirations are to continue to work with Los Ojos and help expand it into one of the largest local Charities helping people with general assistance, medical assistance, and educational assistance. With the help of others Mr. Vigil feels it is possible to make a difference and help impact the lives of millions of people. There are only two types of people those who sit around and wait for something to happen or those who get involved and make it happen. Los Ojos is a dynamic and powerful group of people who are working hard to make a difference in the lives of others.
Jason J. Ayala
Jason J. Ayala is the owner of InReach Wealth Advisors, a Private Wealth Advisory practice of Ameriprise Financial in Scottsdale, Arizona. As a Private Wealth Advisor, he works with high net worth individuals and business owners to achieve their life dreams through a comprehensive financial planning relationship.
Jason was born in New York, but grew up in New Mexico. He, his wife Jennifer, a New Mexico native, and son Caden currently reside in Arizona. Jason and Jennifer are both graduates of Cibola High School. After graduating he moved to Arizona to attend Arizona State University. He graduated in 1999 with a Bachelor of Science degree in Finance, and began his career in financial services immediately following. Jason is a strong believer in education and helped create what is now known as the HOPE scholarship through Los Ojos de la Familia.
Jason is currently the Treasurer of the Board, and believes being a part of LODLF gives him the opportunity to give back to the community that raised him. He feels with the right motivation, sufficient resources, and a commitment to continuous personal growth anything is possible.
Nancy McRae
Nancy McRae was born and raised in Albuquerque, New Mexico she graduated from Cibola High School in 1978 joined the Armed Forces and spent 10 years in the Army then returned to raise her daughter Megan. She is currently the Office Manager for a Local CGI. She is an active member of her community volunteering through her church, and several community organizations to give back. As a board member with Los Ojos she feels she can help families and children of all ages become contributing community members.
Brian Chavez
Brian is an Engineering Manager at Intel in Rio Rancho, NM, currently responsible for the Lithography Department. Intel designs, manufactures, and sells integrated circuits for computing and communications industries worldwide and is a strong supporter of community improvement initiatives. Brian received his Bachelor of Science Degree in Biomedical Engineering from Arizona State University in 1996. He was born and raised in Albuquerque, NM and is a multi-generation New Mexico native. Brian and his wife Joslin have two wonderful boys Isaiah and Xavier. Outside of work, he enjoys spending time with his family traveling, camping, boating, golfing, and working around the house. Brian also is a volunteer wrestling coach for the Cibola HS Jr. Wrestling program, in which his son Isaiah participates.
Sherry Lober
Sherry Lober is honored to serve as a board member for Ojos De La Familia. Sherry is an APS teacher and owner of Achievement Driving School. Sherry has worked with youths in the community as a mentor, coach and educator for over 25 years. She was raised in Albuquerque by a single parent as the second youngest in a family of 7 and is empathetic to the challenges faced by today's families and students. Sherry was the first in her family to earn a College degree, which she attributes to the guidance and direction of positive, influential and motivational people in her life. Sherry is extremely passionate and committed to "paying it forward."
Aban Lucero
Aban is a native of Albuquerque where he attended West Mesa High School and the University of New Mexico.  Aban earned a Bachelor of Arts in Criminology and a Bachelor of Arts in Political Science.  Aban and his wife Sandra have three children, Alek, Alexandra and Aleah.  Aban has a huge heart is a very generous person and an outstanding person with great character.  Aban brings a lot of positive energy to the Los Ojos board and is a networking expert.
Aban is honored to be a board member of such a great charity where together everyone strives to provide for those in need.  Through Los Ojos de la Familia, Aban hopes to provide relief to those in need, by reason of disadvantages.
Patricia McCoy
Raised by a single mom, I learned very young that family is extremely important. When I was a little girl, my brother joined the military. I realized that I wanted to follow in his footsteps and I joined the United State Marine Corps at the ripe age of 17. Those five years allowed me to travel the world and I was able to do my part in protecting this great nation of ours by completing 3 combat tours in Iraq.
After returning home, I earned my Bachelor's degree in Business Management from the University of Phoenix. After serving my country, I decided that I also wanted to serve my community. I worked for a non-profit organization, Disabled American Veterans (DAV), as a National Service Officer, advocating for veterans and their dependents and fighting to ensure they received the benefits they were entitled to, benefits that they earned. I now work for the Office of Personnel Management as a Federal Background Investigator.
My family and I started doing at least one good deed every day. This "good deed for the day" is our way or bringing about positive change in the world. I truly believe that we can all do our good deeds to make this world a better place.
Steven Medina
Steven Medina was born and raised in New Mexico and is evidence that helping kids
when they are young does make a difference. Steven was very involved in school
and extracurricular activities in the Albuquerque, Los Lunas, and Taos areas. With
help for organization like Los Ojos de La Familia, Steven was able to participate and
be involved in activities that he may never had the opportunities to be part of
without help. Steven used that help to open doors that eventually lead him to being
the first family member to receive a bachelors degree. Steven has a great deal of
experience working with kids of all ages.
Mike Novak
Mike Novak, an Albuquerque born native, is the Owner and Qualifying Broker at Green Light Real Estate Services.  Together with his wife Sandi, they are raising their three daughters, Taylor, Brooke and Payten.
Mike has a passion to help others and donates his time and money to help those in need.  He attended the University of New Mexico and continues his formal education.  Mike says, "Education is the key to success!" 
Mike loves an adventure.  His hobbies include mountain biking, boxing, golf, and always trying new sports and activities.  "I may be getting older, but I will never stop being competitive in EVERYTHING I do."
Most of his "free time" is spent watching his daughters in their respective sports.  "I never miss my daughter's sports!  They come first!"
David Romero
Dave has been with the Home Instead Senior Care family since 2006. He began his career as the Marketing Manager for the San Jose, CA office. In 2008 Dave moved to Seattle where as the Marketing Director he contributed to the success of three Home Instead offices in the Seattle area. Born and raised in Albuquerque, Dave was excited to have the opportunity to return home to his large family. He joined the Albuquerque office in 2010. Dave brings nearly 15 years of Marketing and Public Relations to our team. He attended UNM and San Jose State and is a Certified Senior Advisor.
He is the proud father of four–Dillon, Eden, Blake and Jaxon. They are his pride and joy! He enjoys fly fishing, tennis, golf and wrestling. In what little spare time he has, he enjoys reading. His favorite thing about working with Home Instead Senior Care is the opportunity to help as many families as possible!
Evan Sanderson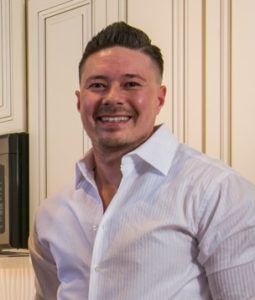 As CEO of Duke City Property Investments Inc (DC) Evan's primary duties include leading the organizations short- and long-term strategies. He oversees the growth of DC while strengthening the organization to ensure long term proficiency and profitability.  Among Evan's talents, included and notable, is his talent for Investor Relations and Raising Capital. Evan is the face of the company and often represents DC at functions and in the public eye. Working with the other partners Evan analyzes the implied risks of investments and uses his experience to advise the board on how to mitigate risk while maximizing return. In Evan's former life he was a career Fireman. The lessons and teachings from the Fire Service are readily abundant in Evan's ability to alleviate risk, his critical thinking and decision making, as well as leadership acumen. Among other notables Evan founded Meraki Equity's, the sister company DC. He is also the youngest Board member of one of his communities most generous charities Los Ojos De La Familia. Evan is a humble and servient leader who loves to see his Team WIN!
Gabe Trujillo
Gabe Trujillo is a New Mexico native, who graduated from Cibola High School, and founded local telecom company Elite Communications. He is a loving husband and father, and is excited to be part of this local organization of like-minded folks.
Eric Strauss
Eric Strauss is a motivational speaker, professional boxing announcer, Best Price driving school owner and a Marketing teacher. He has a Master's Degree in Administration from the University of New Mexico. His first degree from UNM is a Bachelor of Arts with a double major in English and History. He grew up in Albuquerque where he has his own radio show called the House of Strauss on 770KKOB AM.
He is proud to work in this community as a board member for Los Ojos De La Familia. On any given day you may find him playing music as a DJ at a local event, or in the middle of the ring getting the crowd fired up for a boxing match. His life goal is to, "Make a Difference!" He has two beautiful children and is married to Linda Strauss.
Jack T. Vigil
Jack T. Vigil is originally from Penasco, NM and is the Founder of Harmonix Technologies, Inc. a National Information Technology corporation based out of Albuquerque, NM. Over the last several years, Jack has put a great emphasis on giving back to the community by inspiring the youth to believe in themselves and pursue their dreams, Jack's company started Mi Comunidad New Mexico in 2009 which continues today by offering corporate sponsorship to local charities and technology bound students through scholarship and internship programs. Being a part of Los Ojos De La Familia's Mission has been a rewarding and eye-opening experience. Jack is extremely proud of what the Board of Directors has accomplished in such a short amount of time and feels honored to be a member.
Greg Rees
Greg is a Chief Deputy for the Bernalillo County Sheriff's Department. He started with the Department in 1993 and has earned the respect of other deputies through dedication and his admirable work ethic. His role as a public servant for over 20 years has played a major role in his desire to strengthen our community by becoming a part of Los Ojos de La Familia.
Born and raised in Albuquerque, Greg attended Highland High School and received his Bachelor's Degree in Criminal Justice from the University of New Mexico. Greg threw shot put for UNM's track team.
Greg spends the majority of his free time with his wife, Kimberly, and his daughter, Dylan MacKenzie. Their weekends are spent at Dylan's various sporting events and the occasional movie. Greg enjoys weight training, cycling, swimming, reading and coaching his daughter's soccer team.
Greg is honored to be a part of Los Ojos de la Familia, where he will have the opportunity to help make a difference in the New Mexico community.
Manny Garcia
Manny is a native of Albuquerque New Mexico where he attended St. Pius High School and the University of New Mexico.   Manny is the proud father for two children Brianna and Manny III. Manny has been in law enforcement for over 27 years.  He started working with the Albuquerque Police Department in 1991 and retired in 2011.  After retiring he continued his law enforcement career with another local law enforcement agency where is currently an SRO and Community Recourse Officer.  Manny has worked with youth of all ages in our community for over 20 years as a mentor and coach.  He is currently a track coach at Cibola High School.  Manny enjoys spending his free time with his children.  Manny is also very active and enjoys hanging out with his friends, coaching and playing golf.
Manny is proud to be involved with Los Ojos De La Familia where he hopes his contribution to the charity can help others in the community.
Jeanette Chavez
Jeanette Chavez is a native of Albuquerque New Mexico where she attended Sandia High School and the University of New Mexico.  Jeanette has been employed by Atlas Payroll Resources & OnepayHR for 22 years.  Throughout her career Jeanette has acquired a tremendous set of work skills, that include expertise in areas such as management, workers' compensation, and payroll.  Jeanette was also a lifeguard and swimming instructor for over 10 years.  Jeanette's passion and love is the water and to be outdoors enjoying life to the fullest.  Jeanette takes pride in working out and keeping a healthy lifestyle.   Jeanette has been blessed with the privilege and honor of raising her nephew Marc for the last eight years.  Jeanette believes in making a difference in everyone's life and is honored to be a board member for Los Ojos de La Familia, where she can continue to be make an impact in the lives of other in the community she loves.
Aaron Jaramillo
As vice president of business development, Aaron Jaramillo is responsible for driving strategic partnerships and transactions to accelerate growth for AQUILA and its customers. Mr. Jaramillo works with external partners around the world to identify areas of collaboration, drive innovation, and help organizations keep their resources safe. In this capacity, he also manages AQUILA's relationship with the cyber security community and oversees strategic alliances through the company's distribution and reseller engagement program.
Prior to this role, Mr. Jaramillo served in leadership positions with Splunk, Xerox, NetApp, Presidio, and Presbyterian Healthcare, where he gained first-hand knowledge of the information security challenges faced by start-ups, large-scale enterprises, and government organizations. Before joining AQUILA, Mr. Jaramillo held various technical positions across engineering, sales, marketing and business development roles, with a primary focus on aligning infrastructure solutions with operational requirements.
A seven-year active duty U.S. Navy veteran, Mr. Jaramillo earned his bachelor's degree in IT management from the University of Phoenix.
Mr. Jaramillo believes in community outreach and is thrilled to be a part of an organization that can impact the lives of the people in the community he is proud to call home.  Mr. Jaramillo is a native New Mexican grew up in Grants NM but has spent the majority of his adult life in Albuquerque with his wife of 27 years.  Together they are the proud parents of three young adults.
Austin Lober
Austin R. Lober is an Albuquerque, New Mexico native where he attended and graduated from Albuquerque High School. For college, Austin attended the University of Nebraska and competed as a Division I Varsity Gymnast while receiving a bachelor's degree in Business Management with a focus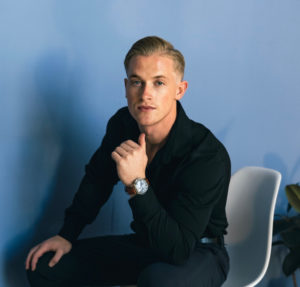 in Marketing. After graduating from college, Austin decided to move back to Albuquerque to follow his passions in sports, philanthropy, mentorship, and most of all make a positive impact on his community.  He currently develops strong relationships between local businesses and UNM Athletics with a focus on providing a strong platform to connect his corporate partners with Lobo Nation while simultaneously creating new opportunities for student-
athletes. Austin is also the co-founder and current Board President of Los Ojos De Los Ninos, our affiliate charity that strives to provide the youth in our community an opportunity to be involved and engaged with philanthropy. Austin strives to make an impact within Los Ojos De La Familia by bringing a fresh and unique perspective to the board while playing a major role in the charities future growth and initiatives.